Medicare & Medicaid
---
Medicare
Health insurance, including Medicare & Medicare Supplements (Medigap policies) or Medicare Advantage programs will only pay a limited amount of skilled and rehabilitative long-term care and only for 100 days (this includes the days paid for by a Medicare Supplement).
Medicare Part A (Hospital Insurance) covers skilled nursing care provided in a skilled nursing facility (SNF) under certain conditions for a limited time.
Medicare-covered services include, but are not limited to:
Semi-private room (a room you share with other patients)
Meals
Skilled nursing care
Physical and occupational therapy*
Speech-language pathology services*
Medical social services
Medications
Medical supplies and equipment used in the facility
Ambulance transportation (when other transportation endangers health) to the nearest supplier of needed services that aren't available at the SNF
Dietary counseling
*Medicare covers these services if they're needed to meet your health goal.
Most long-term care is custodial in nature (this means help with activities of daily living or supervision due to cognitive issues). Custodial care is NOT covered by any health insurance or any Medicare type of policy. Only affordable long-term care insurance will provide the resources to safeguard your savings and ease the burden extended care places on your loved ones.

Medicare Supplement Policies are Standardized
Every Medicare Supplement policy (also known as a Medigap policy) must follow federal and state laws, according to the Centers for Medicare & Medicaid Services (CMS). By law, these policies must clearly be identified as "Medicare Supplement Insurance." On a Long-Term Care Insurance policy, they are clearly identified as NOT being "Medicare Supplement Insurance."
The insurance companies that offer these supplements can only offer a "standardized" policy that is identified by letters in most states.
While state laws might affect which plans an insurance company may offer, each insurance company determines which supplement policies they wish to sell. Insurance companies which market supplement policies do not have to offer every plan, but they must offer Plan A if they sell any Medigap policy. Also, companies must provide Plan C or Plan F.
Since January 1, 2020, Medicare Supplement policies sold to new people are no longer allowed to cover the Part B deductible. With the new regulation, Plan C and F are no longer available to purchase. If you already have either an existing supplement Plan C or F, you can continue with that plan.
Compare Medicare Supplement Plans Side-by-Side
CMS publishes a chart that shows the basic information about the different benefits Medicare Supplement policies cover.
Yes = plan covers 100% of this benefit
No = policy does not cover that benefit
% = plan covers that percentage of this benefit
N/A = not applicable
Keep in mind any supplement policy covers the coinsurance amount only after you've paid the deductible (unless the policy also pays the deductible).
Supplement Benefits

Medicare Supplement Plans

A

B

C

D

F*

G*

K

L

M

N

Part A coinsurance and hospital costs up to an additional 365 days after Medicare benefits are used up

Yes

Yes

Yes

Yes

Yes

Yes

Yes

Yes

Yes

Yes

Part B coinsurance or copayment

Yes

Yes

Yes

Yes

Yes

Yes

50%

75%

Yes

Yes***

Blood (first 3 pints)

Yes

Yes

Yes

Yes

Yes

Yes

50%

75%

Yes

Yes

Part A hospice care coinsurance or copayment

Yes

Yes

Yes

Yes

Yes

Yes

50%

75%

Yes

Yes

Skilled nursing facility care coinsurance

No

No

Yes

Yes

Yes

Yes

50%

75%

Yes

Yes

Part A deductible

No

Yes

Yes

Yes

Yes

Yes

50%

75%

50%

Yes

Part B deductible

No

No

Yes

No

Yes

No

No

No

No

No

No

No

No

No

Yes

Yes

No

No

No

No

Foreign travel exchange (up to plan limits)

No

No

80%

80%

80%

80%

No

No

80%

80%

Out-of-pocket limit in 2020**

N/A

N/A

N/A

N/A

N/A

N/A

$5,880

$2,940

N/A

N/A

* Plans F and G also offer a high-deductible plan in some states. With this option, you must pay for Medicare-covered costs (coinsurance, copayments, and deductibles) up to the deductible amount before your policy pays anything.
** For Plans K and L, after you meet your out-of-pocket yearly limit and your yearly Part B deductible ($198 in 2020), the Medigap plan pays 100% of covered services for the rest of the calendar year.
*** Plan N pays 100% of the Part B coinsurance, except for a copayment of up to $20 for some office visits and up to a $50 copayment for emergency room visits that don't result in inpatient admission.
Remember, Medicare and Medicare supplements will only pay a limited amount of skilled long-term care services and will never pay for custodial long-term care.
Schwab-Menn & Associates, LLC can enroll you for your Medicare Supplement with several top insurance companies to choose from. You can enroll six months before your 65th birthday. Click here if you wish information on Medicare Supplements.
Part D Drug Coverage Under Medicare
You can also select your drug coverage under Part D. Do not confuse this "Part D" with the Medicare Supplement "D". You often do not have the same insurance company for your Part D Drug plan as you do for your Medicare Supplement since each drug plan covers generics and name brands, based on certain manufacturers, differently.
Click here for more information on the Part D Drug Coverage under Medicare.
Medicaid (Welfare)
Medicaid is a joint federal & state program that helps with medical costs for some people with limited income and resources. Medicaid also offers benefits for long-term care in the event you either have little or no resources (income)or exhaust your savings (assets) when you must pay for long-term care costs out-of-pocket. Often, this care is only in a Medicaid-approved nursing home although a few states will provide some homecare from Medicaid approved providers.
Many people wish to avoid spending down their hard-earned assets such as their savings and investments because of a long-term care circumstance. Many states also participate in the federal/state long-term care partnership program which can provide additional asset protection. See your state spend down requirements and participation in the partnership program by clicking here: LTC Information By State.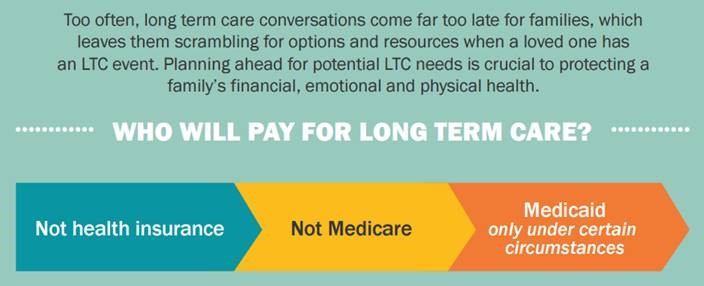 The end result is that - unless you have affordable long-term care insurance you will have to pay for long-term care costs out-of-your own pocket spending down your investments and other assets and perhaps forcing yourself into a spend-down Medicaid (welfare) situation.
---
TPMO DISCLAIMER - We do not offer every plan available in your area. Any information we provide is limited to those plans we do offer in your area. Please contact Medicare.gov or 1-800-MEDICARE to get information on all of your options.